All our guides are qualified to either BP Jeps or DE Jeps standard, and are enthusiasts on the river. They're committed to making sure you have maximum fun, while at the same time feeling confident in your security. If you're anxious, please speak to us before the trip so we can help you feel more at ease.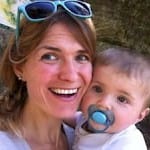 Natalie Elvy
Bossy boots
Nat, originally from Ayrshire, Scotland, was a TEFL teacher in various places around the world, and a social researcher in Edinburgh before taking time out to chalet host during a ski season. Having learned no French at all, she stayed in France, and discovered there's even more action in the Alps in summer months than the winter ones. She should be able to answer your questions and organise your booking, then ensure you get to where you take-off from, wearing the right gear, at the right time... Still disappointed in her level of French, for the rest of the year she teaches English as a foreign language.
Jeremy HELVIC
Boss, White-Water Guide, Canyoning Guide, Climbing Guide
Jeremy is a river guide (Masters), canyoning guide (Masters) and climbing guide (Batchelors). Originally from Normandy he has made the Alps his home - there are few places in the world with fabulous skiing in winter, kayaking in summer, and mushrooming in interseason. For the past 20 years he has guided on the rivers Giffre, Dranses, Isere and Dora Baltéa, and decided to use his experience to establish FROGS. Fluent in English and French, he'll get you surfing waves, abseiling canyons or climbing cliffs! Durning winter he works in Avoriaz as a ski patrol.
Sébastian
White Water Guide
Seb, aka P'tit Seb, been going down the Dranse for more years than he'd like to remember! A keen kayaker he spends his summer guiding and kayaking. He lives in Feternes, just above the base, so he can give you excellent advice about places to visit around the place, and the rest of the year he's a keen gardner and is in the process of training to be a professional knife sharpener.
Nico
White Water Guide
Nico joins us for his summer holidays - for the rest of the year he is a professer of sport at the University of Lyon. In summer he comes back to guide on the Dranse, and has years of experience on the river!
Mathieu
White Water Guide
Another one who's done too many trips down the Dranse to count, Mathieu is another old hand on the river. He spends his summer on the river and during winter he is a ski patrol in Chatel.
Anna
Driver & Photographer
Fabulous Anna is a New Zealander who lives in Morzine year round. Anna has worked as a canyoning and rafting guide in New Zealand and Switzerland so she's no stranger to outdoor activities: if you've any questions or anxieties, let her know so she can put you at ease! She'll get you kitted out in neoprene and drive you up to the start of the trip, before following you down the river with her camera for some action shots of you on the water.
She owns 45°North, a chalet company in central Morzine ideal for skiers in winter and bikers in summer!
Karen
Secretary, information guide
She's lived here for years and knows the area and the language inside-out! Karen is in charge of making sure you're booked onto the right trips on the right days and know where you're going! She'll also help you get equipped and answer any questions you have. During winter she can be found at the Grande Turche, St Jean d'Aulps' little part of the Portes du Soleil.